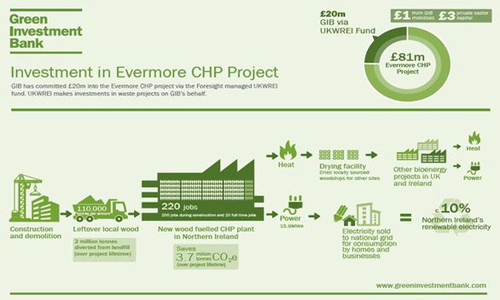 (From Engineering and Technology Magazine)
30th July 2013
A combined heat and power plant in Northern Ireland which could supply 25,000 homes will be the largest of its kind, it has been revealed.
Two million tonnes of wood will be burned at the new £81m Evermore plant in Londonderry, which will be the largest renewable energy project in Northern Ireland, investors said.
The 15-megawatt installation is expected to begin operating in 2015 and will increase the amount of sustainable electricity generated in Northern Ireland by approximately a tenth. It is the first deal done in Northern Ireland by the UK's Green Investment Bank, which is providing £20m.
Business Secretary Vince Cable said: "The first deal done in Northern Ireland is a landmark moment for the UK Green Investment Bank and I'm confident that there will be more to come."
He added that today's investment will have a significant impact, reducing carbon emissions and diverting wood from landfill while creating jobs and building a stronger economy.
Shaun Kingsbury, chief executive at the bank, said: "Today's announcement will substantially increase Northern Ireland's renewable energy capacity.
"Not only will the project save the same amount of carbon as taking around 77,000 cars off the road, it will also make use of over two million tonnes of wood, a valuable energy resource that would otherwise have gone to landfill."
Northern Ireland is striving to reach stringent renewable energy standards laid down by Europe – by 2020 a fifth of supplies have to come from green sources.
The Stormont administration has pledged a range of incentives including payments for businesses and homes using sources like solar, wind or woodburning biomass.
Much biomass use so far has centred on micro-generation in homes and businesses. The wood-fuelled plant is to be built on a 10-acre site at the Londonderry Port and Harbour Commissioners land at Lisahally, developers said, and will simultaneously generate electricity and heat for homes.
The flagship biomass unit is the first of its kind on the island of Ireland and also the first project to be developed and funded by Evermore, established by directors Ciaran and Stephen Devine.
Ciaran Devine said: "We are making a serious commitment to the Northern Ireland energy market. Working with the best partners in technology, fuel supply and financing we hope to show that Northern Ireland is a great place to do business so that further inward investment will follow.
"These projects are extremely complex and they require the involvement of many statutory bodies and government departments and we hope this Investment will show the rest of the UK how committed Northern Ireland is to supporting renewable energy development, and how competent Evermore is at bringing these elements together and financing complex structures."
Evermore, advised by KPMG Corporate Finance Belfast, secured the funding from the Green Investment Bank through the Foresight Group's UK Waste Resources and Energy Fund (UKWREI). Partner funders include GCP Infrastructure Fund Ltd, Burmeister & Wain Scandinavian Contractor A/S (BWSC), Investec Bank, and Eksport Kredit Fonden.
Construction work on the plant will create 200 jobs and will start in the coming weeks. Evermore Renewable Energy expects the plant to become fully operational by summer 2015.
Link to full published article here.
http://demo.mlarge.com/wp-content/uploads/2017/01/mlarge-logo.png
0
0
clive
http://demo.mlarge.com/wp-content/uploads/2017/01/mlarge-logo.png
clive
2013-07-31 09:55:13
2017-02-14 11:13:47
WORLD OF WOOD:FIRST WOOD FUELLED POWER PLANT IN N.IRELAND GET £80M FUNDING FROM GREEN BANK