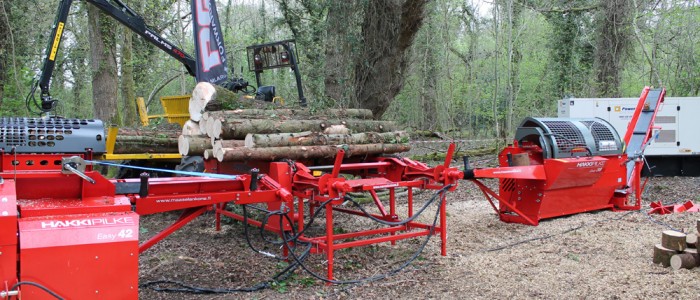 Depending on your generation  that headline will bring back memories of "Rawhide" or "Limp Bizkit" …but what we're getting at is that we think it's a necessity for any serious firewood processing business to rapidly feed timber without manual handling.
That's the job of a log deck …essentially it feeds logs into the processor on hydraulic rollers, ensuring there is a plentiful supply of timber being fed for cutting and splitting.
Hakkifeed log decks from Hakki Pilke offer best of breed log feeding for PTO and electric combi log splitters. With hydraulic infeed pinch rollers, adjustable legs and mechanical separators they will make an elegant solution to feeding timber to your firewood processor. It'll be one of those purchases you wondered how you did without!
See a Hakki Feed log deck in action with an Easy 50 processor in the video below.
For more information on Hakkifeed log decks call M.Large on +442890 342838 or email the sales team on sales@mlarge.com
http://demo.mlarge.com/wp-content/uploads/2017/01/mlarge-logo.png
0
0
clive
http://demo.mlarge.com/wp-content/uploads/2017/01/mlarge-logo.png
clive
2013-10-10 10:07:19
2017-02-14 11:09:59
ROLLING ROLLING ROLLING